How many times have you heard the words 'omnichannel strategy' over the last 24 months? During the pandemic, many retailers realised that their ecommerce offering didn't match up with their in-store experience and frantically began looking for ways to retain customer loyalty by implementing simple, consistent interactions across all touch points. Of course, retailers couldn't do this alone, the appetite for new technologies skyrocketed. In 2021 over 25 Hullabalook shopping experiences went live.
Today, we find ourselves in a similarly challenging and unpredictable economic climate. The start of October brought a decline in footfall across UK stores. Shoppers are being cautious about where they spend money, which means that retailers are forced to reassess ways of igniting retail appetite. 
In this month's blog, we look at ways that retailers can make the most out of each shopper interaction. We'll focus on two types of shoppers:
Those who are ready to buy: How can you help them feel more confident in their purchases? 
Those who aren't quite ready:

 

How can you encourage them to return to your site and purchase again when they are? 
We've discussed this internally many times over the last few months. Here are some of our thoughts.  
Acknowledge behaviour changes, and make it easy for shoppers to return when they're ready
As consumers continue to watch their spending, purchase journeys are taking longer. How can retailers make it easier for shoppers to buy when they are ready?
One way we help customers achieve this is with our Room Creator experience. Retailers use our solution to make cross-category shopping easier both online and in-store. 
For those who aren't familiar with the experience, here's a preview below. As you can see, this retailer's product catalogue has been loaded within the experience. We've transformed each product into a 2D 'sticker' which can be moved around the canvas. Shoppers have the ability to customise their canvas with wall colours and floor type, and they can also navigate between different product categories. If they click on a product, it appears within the canvas and is also added to their shortlist. Once shoppers are happy with their selected products, they can share the design with a friend, or checkout in one click.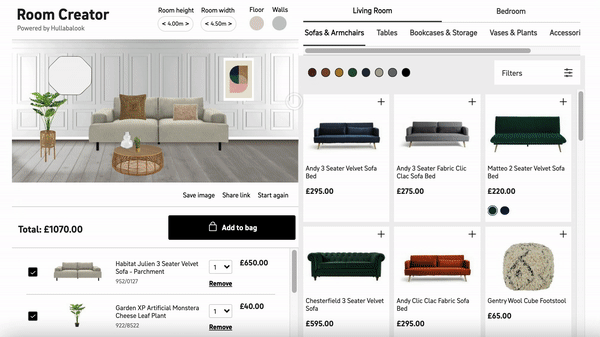 In an attempt to see if we can spot any changes in shopper behaviours over the last three months, we analysed UK users of our Room Creator experiences. Our data showed a 21% increase in the proportion of shoppers who used the 'share' functionality. 
This could show that our assertions are true – consumers are being more cautious. Shoppers are still showing intent to buy, but they need a little more time, persuasion from a friend, or are waiting for a sale period before they actually make their purchases. 
By offering shoppers an opportunity to explore their catalogue, visualise products and share their designs, our retail customers are making the most of every shopper who lands on their site. Instead of falling back into the top of the funnel, shoppers who use the Room Creator's share functionality can return to the experience when they're ready and purchase everything they previously shortlisted within one click.
Invest in tech and provide in-store colleagues with enough training 
Stores aren't immune to the longevity of digital transformation. To provide a holistic shopping experience across every touchpoint, many retailers have introduced technologies to aid shopping journeys in-store. From on-demand video customer service, click and collect, and QR codes, there's a plethora of technologies available to improve every aspect of the purchase journey.
But for these technologies to work, you need buy-in from in-store shop assistants. If the technology you're investing in doesn't make their jobs easier, what value is it adding? 
The Hullabalook team have spoken to in-store colleagues about the challenges they experience selling to shoppers in-store. For example, a lot of shoppers find it difficult to visualise how products will look in their own space. Room Creator helps eradicate this problem by letting shoppers visualise products to scale, in a room-setting. In-store colleagues can also use it to increase exposure to the wider product catalogue, since in-store stock is often limited. 
Store visits are really valuable for us, and our retail customers. Staff feel more comfortable using Hullabalook's technology in-store, and we can optimise our experiences according to their feedback. 
QR codes are another great interactive technology. They're becoming increasingly embedded in customer experiences across all industries, including retail. Habitat made their in-store magazine shoppable with the use of QR codes. Each lifestyle image was assigned a QR code, which redirected shoppers to a Hullabalook experience allowing them to purchase the featured products.
These are great examples of retailers listening to their customers and providing helpful, inspirational shopping experiences across multiple touchpoints.
Make the most of every shopper who lands on your site
Some shoppers are ready to make a purchase, because it's something they've been planning for a long time.
People put a lot of thought into purchasing large items, like sofas. They know the exact size, style and colour they want. In fact, they probably saw it in-store before purchasing online. How can you increase attach rate on high ticket items like this?
Let's use our customer, ScS, as an example. I'm looking for a grey, three seater sofa (and I could probably be persuaded to buy the matching footstool.) I've already seen the one I like at an ScS store and now I'm ready to buy it online.
In an ideal world, ScS would like me to purchase multiple items during my shopping session. Most retailers have some sort of bundling engine on their PDPs to achieve this, however, they often require a lot of manual updating.
ScS uses our automatic Visual Bundles technology to cross-sell additional products on their PDPs. This bundle, featuring the matching armchair and footstool, has been automatically generated by Hullabalook's technology.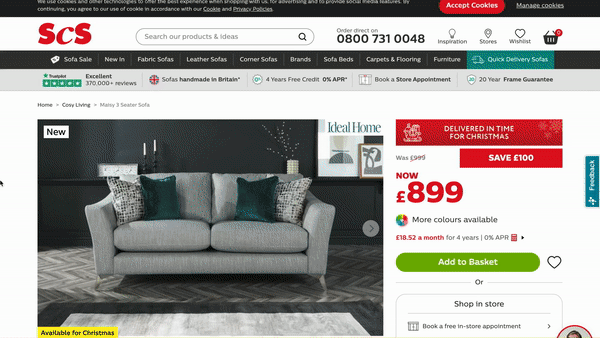 This has not only saved me time, it's also allowed me to visualise the products I like within a lifestyle setting - without ever leaving the original PDP. I'm a happy customer.
When you strip it all back, everything we've discussed involves implementing helpful and memorable CX across multiple points of the purchase journey.
We'll be very interested to see if shoppers interact differently with our experiences over the coming months.