At Hullabalook, we're big on building tech that's easy for anyone to use anywhere. Like our co-founder Bryony always says, if her Mum can't use it on her phone, when she's on the bus, then it's probably too complex!
Since Hullabalook was founded back in 2016, we've been passionate about building things which make shoppers' lives as easy as possible. Sometimes that means building a new, revolutionary product. Other times, it's about making small UX improvements which can make a big difference.
Read on to find out more about the latest "small thing" we've released – we think it'll make a big difference to shoppers' lives.
Imperial or Metric? That's the Question!
Depending on where in the world your shoppers are from, they might face a dilemma each time they're asked for a measurement. Ask a Brit to give you their height in centimetres and many of them will draw a blank. Or tell a Canadian the temperature and they'll have to decipher whether you meant Fahrenheit or Celsius.
Same goes for when shoppers visit your ecommerce site. If they're trying to figure out which products will fit into their home, make their life easy and give them the ability to see the measurements they need, be it imperial or metric.
A Small Toggle To Solve a Big Problem
With our latest UX product upgrades, shoppers who visit ecommerce sites that use Hullabalook's Room Creator or AI Category Pages technology will be able to toggle between the imperial and metric systems to see measurements they're familiar with.

This small (but mighty!) user experience may look simple, but being able to toggle between different metric systems is technically pretty difficult for many retailers to achieve. That's why retailers trust our team of talented engineers to create solutions which solve a range of different problems. 
AI Category Pages Toggle
AI Category Pages save shoppers so much time as they don't have to go into each individual product display page (PDP) to check the size of each item. Products are ranked according to the preferences shoppers select, and now shown in their favoured measurement system too!
When visiting a product listing page (PLP) which uses the SofaSizer for example – powered by our AI Category Pages technology – shoppers can select whether they want to search for products in either inches or centimetres, or toggle between the two!
Our smart algorithms recognise the shoppers choice, and automatically convert the measurements accordingly. They'll never have to wait for the page to reload because our technology re-ranks the product grid instantaneously, featuring the products that match their specifications right at the top. Pretty cool, right?
See the SofaSizer toggle feature live on Mobilia's site.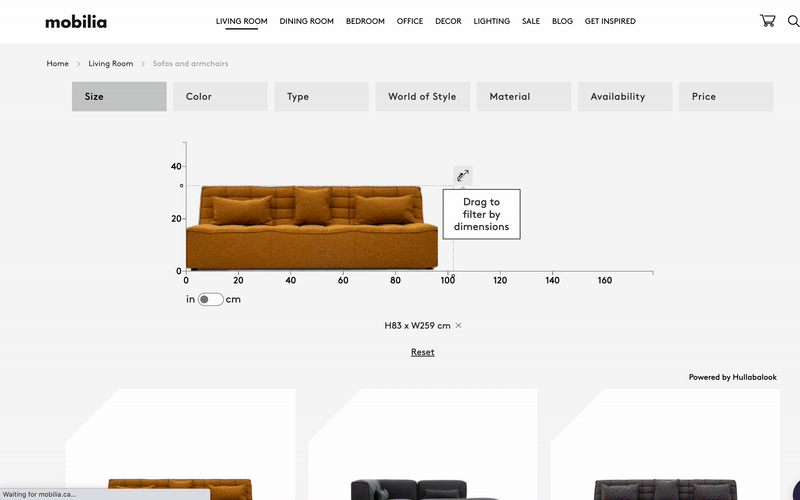 Room Creator Toggle
The Room Creator enables shoppers to discover a wide range of products across multiple categories as they place them into a room setting. Seeing products together in a room setting has been proven to aid visualisation. All products can be added to basket in just one click, increasing average order value (AOV) by 63% on average.
When using the Room Creator, shoppers can easily change the room dimensions to imperial or metric measurements by clicking the toggle. This means they can visualise exactly how big those products will be in the context of their own room when adding them to the room setting.
When you implement the Room Creator on your site, all product sizes will be converted 100% accurately across measurement systems. All product sizing and conversion data is handled by Hullabalook's algorithm, so there's nothing manual that you as the retailer will need to provide. 
See the Room Creator toggle feature in action live on our customer Mobilia's site.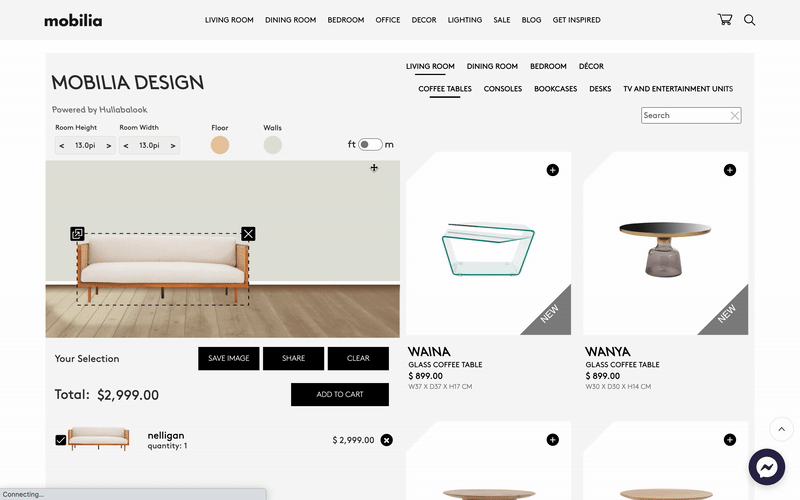 Help Shoppers Find the Right Products With Ease
When shoppers don't have to spend time converting these measurements manually, they're more likely to stay on your site, and also find the products they need with ease – making their experience 'measurably' better!
If you're already using Hullabalook technology on your site, get in touch with your account manager to implement this handy toggle feature.
If you're not yet using our technology and want to add it to your site, book a demo today to find out more.